Hello! We are Daó, a Brazilian design studio that unites strategy, curiosity and critical vision.
Founded by Giovani Castelucci and Guilherme Vieira, since 2014 we have created projects for cultural institutions, collectives, museums, publishing houses, small businesses and other companies and initiatives.
We believe that our design practice is very much related to our personal interests. Usually what we are reading, watching or subjects and curiosities that we research are reflected in the results of the works we create. Carefully observing the world we live in provides a plural and multidisciplinary approach to our activity.
During the research and immersion process, we like to have long conversations with those who invited us to work. This dialogue helps us understand the specifics of the project and prepare the ground for further steps. We also talk a lot among ourselves and with whom we invite to work together – we tend to do a lot of partnerships. We believe that these exchanges make ideas gain substance.
We also believe in the potential of making and, as artisans, we see our tools and processes as an important part of our work. We seek to be aware of our practical choices in our professional routine, and we always share procedures, worksheets, tools and resources with other professionals.
For us, design is fed by everything around us and enables us to learn and build bridges.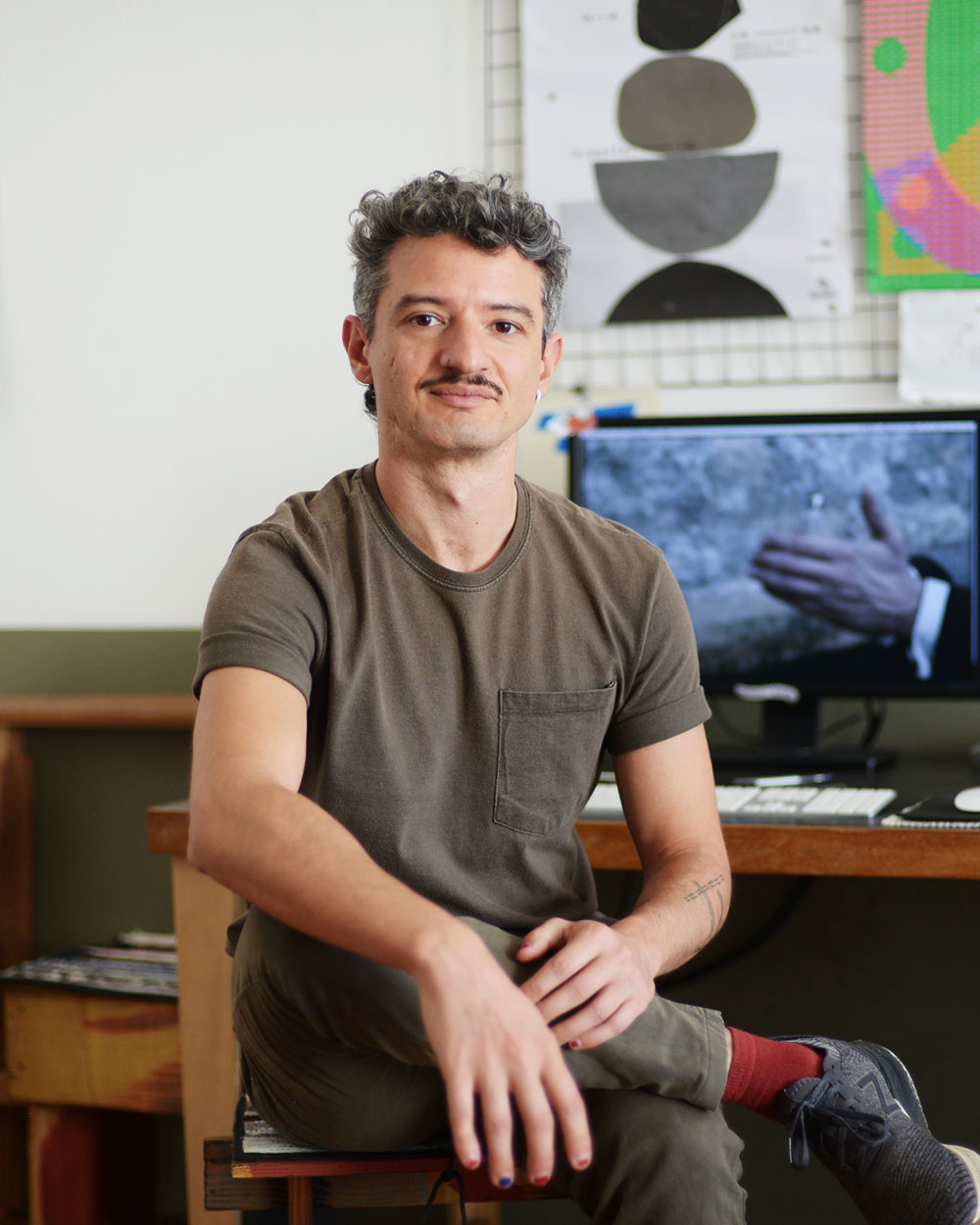 Giovani Castelucci
Post-graduated in Graphic Design and the City at Escola da Cidade, he writes about creativity and teaches financial management in the creative context. Born in Ribeirão Pires, today he lives in São Paulo – where he practically only gets around by bicycle.
Guilherme Vieira
Technician in Graphic Arts and Bachelor in Graphic Design with emphasis in Typography, he is a designer and graphic and computational artist. In his personal work he explores the aesthetic possibilities of the intersection of digital and analogue tools.
Already collaborated with us
Alcides Rodrigues, Amanda Piva, Andrea Kulpas, Andressa Dantas, Brunno Felype, Bruno Brito, Caluã Pataca, Camila Catto, Carolina Carrillo, Dandara Lima, Dani Castelucci, Diego Justino, Elisa Pessôa, Felipe de Oliveira, Felipe Vieira, Fernanda Peralta, Fernando Eduardo, Gabriel Finotti, Gabriela Momberg, Gabriela Pires, Giulia Fagundes (2017—2021), Guilherme Picchetti, Henrique Vieira, Isaac Neto, João Livra, Juh Barbosa, Juliana Briani, Kel, Lari Constantino, Linus Vieira Tsai, Luis Matuto, Luiza Maximo, Mariana Abasolo, Milena Nallin, Naira Mattia, Pedro Veneziano, Raquel Santos, Regys Lima, Ricardo Lisboa, Stefano Maccarini, Tainá Simões, Thabata Arruda, Thainá Miguel, Tiago Araújo, Valquíria Palma, Vânia Medeiros e Warren Tandy.
Clients
A Espiral de Bukowski,
Acho Imagens,
Alessandra Mitteldorf,
AmeDesign,
Apear,
Arado,
Arq.Futuro,
Banca Carrocinha,
Beyond,
BioGrafia,
blastU,
Brain Squad,
Brooklin Coletivo,
Brunno Felype Simões Costa,
Caminho do Queijo Paulista,
Cerveja Com Você,
Chocolate Notebooks,
Coletividad,
Coletivo Amarelo,
Conversas para um Desenho de Sociedade,
Courb,
DiaTipo São Paulo,
Dublab,
Editora Funilaria,
Editora Planeta,
Entre Comunicação,
Escamilla,
Exame,
Feira Naturebas,
Fernando Eduardo,
Fita Crepe,
Flipside,
Flow Impact,
Fotô Editorial,
Front in Sampa,
FTD Editora,
Globo,
Grano Allegro,
Gympass,
Humana Sustentável,
Instituto Caminhabilidade,
Instituto Tambor,
Isabela Yu,
Mãe&Mais,
MAM Rio,
Max Idiomas,
Meu Cabelo Natural,
Milena Nallin,
Moringa,
Motim,
NAU Interativa,
Niuá,
Olabi,
Panorama da Luteria Experimental,
Pé de Feijão,
Pé do Morro,
Pivô,
Prefeitura Municipal de São Paulo,
Raquel Santos,
Rever,
SampaPé,
Senac,
Senai,
Senai-SP Editora,
Sesc,
Sesi-SP Editora,
Sobrinho,
Stefano Maccarini,
TAG Livros,
Todavia,
Valongo,
Vibes,
Vosso,
WorldSkills,
WRI Brasil,
Colophon
This website was built on WordPress and published on 8/16/2023. The last update was on 8/16/2023. Studio portraits are by Stefano Maccarini (project photos are credited on their respective pages). The texts were translated into English by Dani Castelucci and Warren Tandy. The typeface used is Mori.